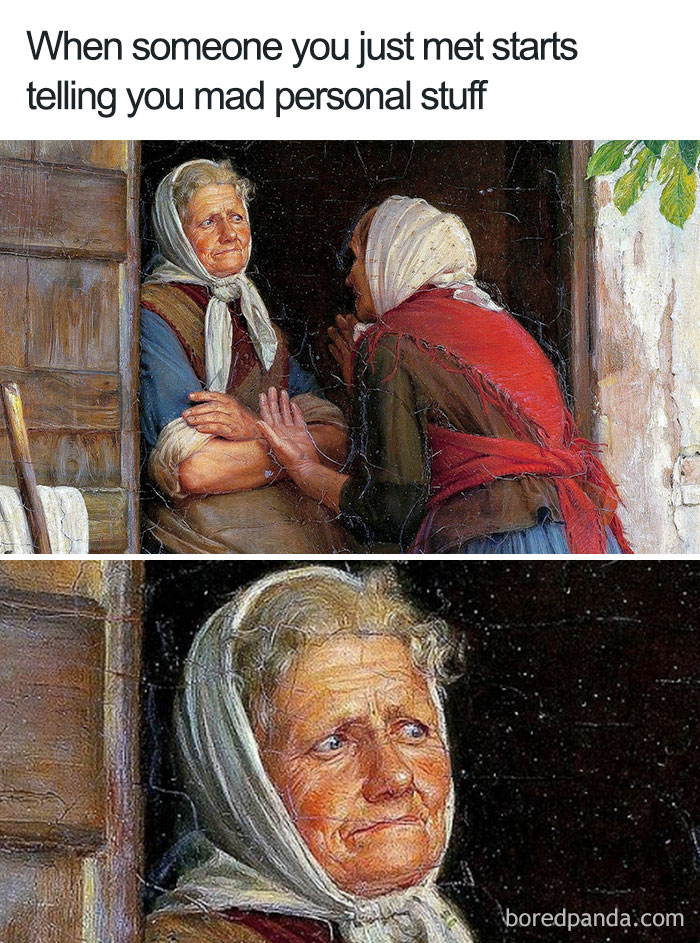 In the past few years, memes have kind of taken over the internet. They take everyday images and turn them on their head to create some of the funniest things you can find anywhere. This list will take a look at some of the best art history related memes.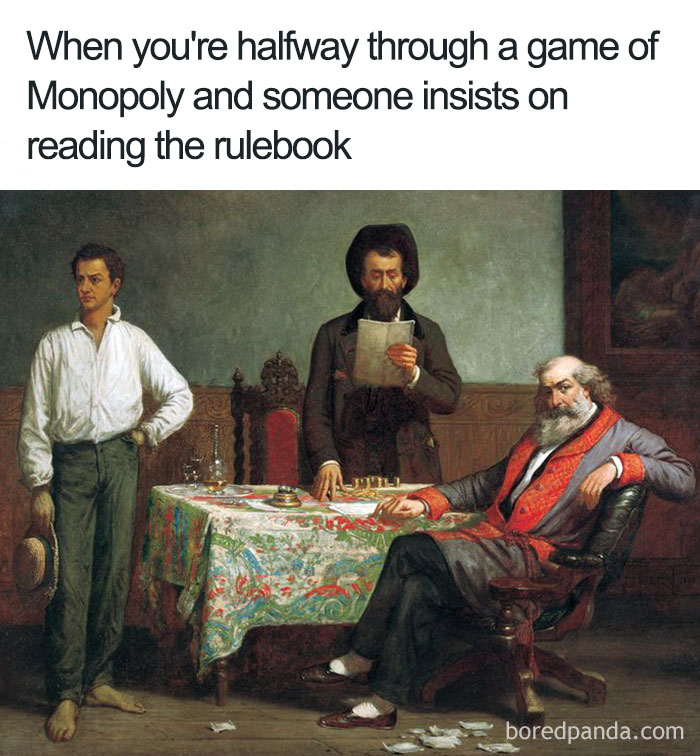 We open with one of the easiest images to relate to. These three gentlemen appear to be in the midst of something, when one stops to read something. Most of us have played Monopoly, or any other board game, and experienced someone stopping things to bust out the rule book.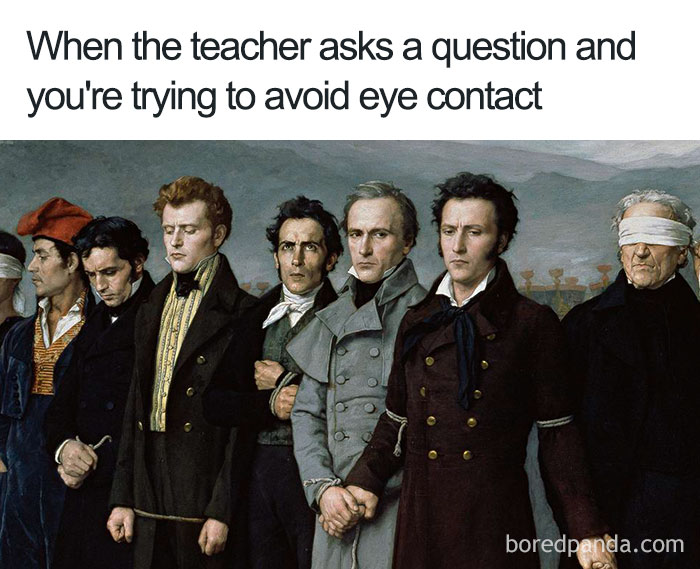 In this picture, a group of men are lined up. Some face the camera, some look down or off to the side, but one is completely blindfolded. That's the kind of feeling we've all had when someone asks us a question we don't know the answer to.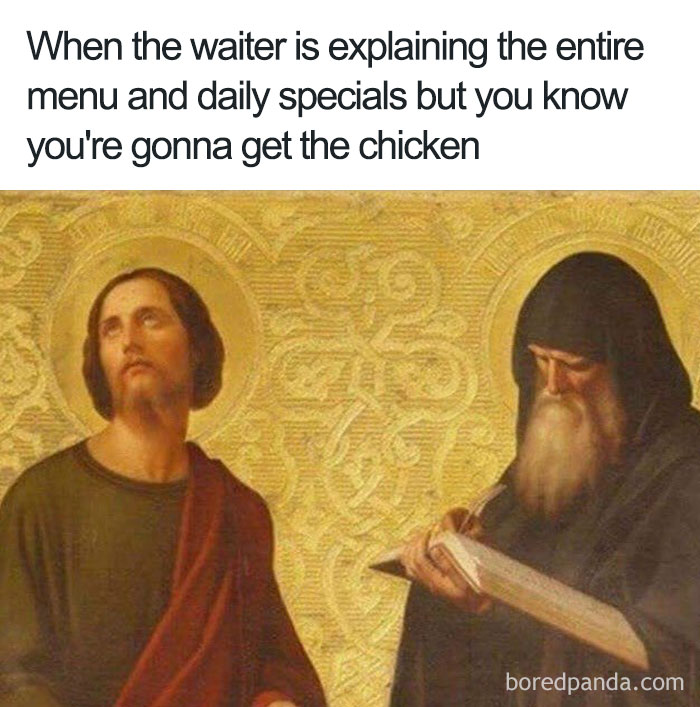 The best memes are the ones that we can relate to. Here, one man is depicted reading a long text, while the listener looks like he'd rather be anywhere else. At some point in our lives, we've probably been both people in this picture. Especially when listening to a waiter.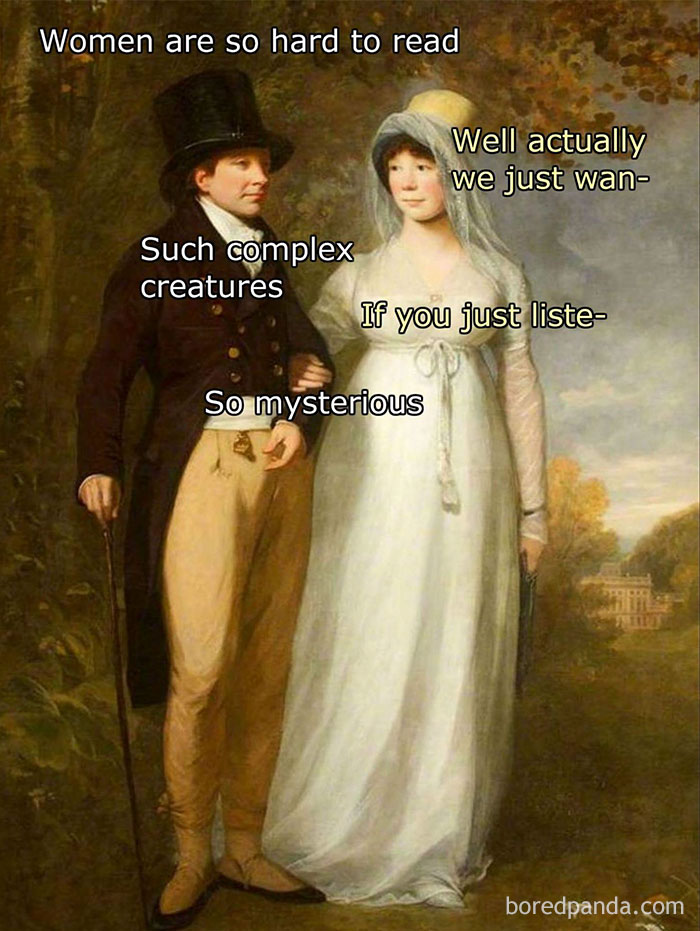 To many men, the opposite sex can be quite the complex concept. It's been a long running joke that women are hard to understand. This meme plays off that, with the man complaining about how hard the woman is to read, even though she's trying to explain herself in the simplest manner.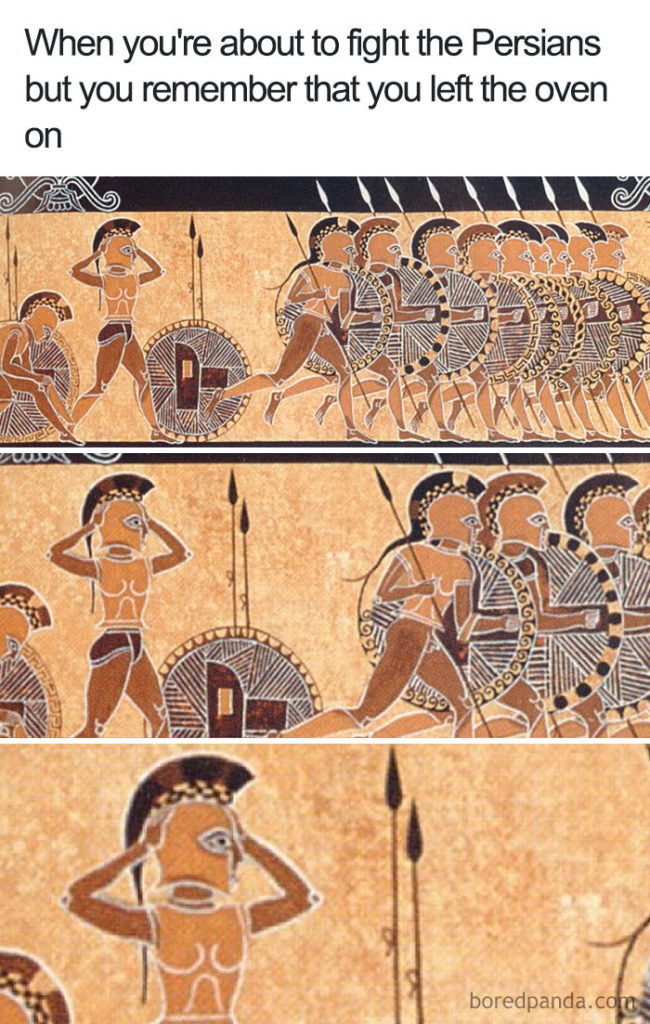 One of my favorites. In what looks like the middle of a war, one soldier seems to have remembered something important and stopped in his tracks. The hands on his head and wide eyes suggest he realized something that could change everything.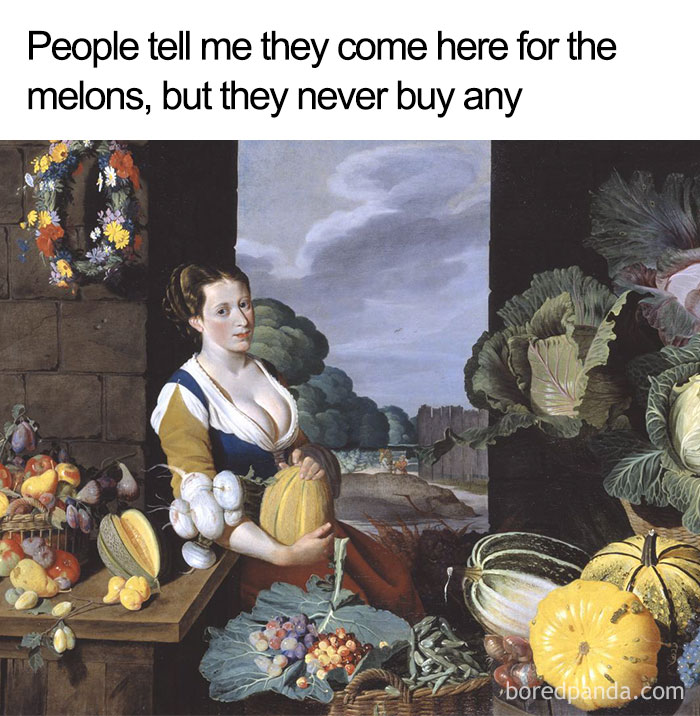 Here, we have a woman and a lot of melons. Her expression shows that people might be coming to her stand, yet they aren't buying anything. I wonder why they're flocking to the area with no intention of making a purchase.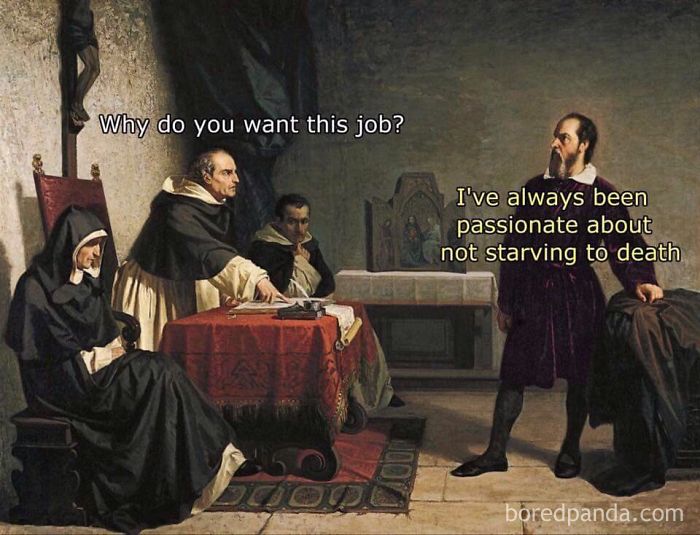 Job interviews are situations ripe for jokes. We are asked questions that can sometimes be straight up asinine. This meme shows a man saying what we've all wanted to. He just want the job to make some money and put food on the table. It's really that simple.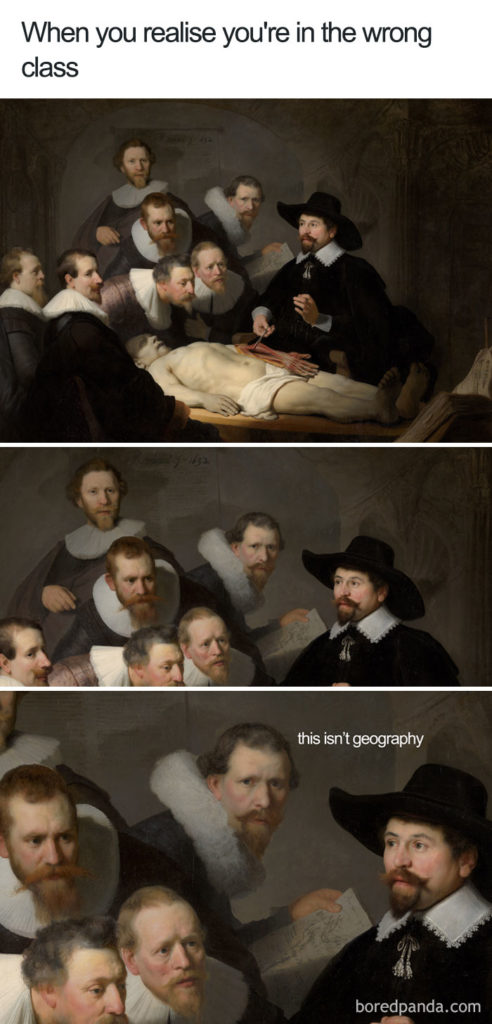 The background of a picture is a great place to find something unintentionally comical. That's what this meme maker did. As all these men are interested in the corpse in front of them, one guy in the back looks straight ahead as if he's in the wrong place at the wrong time.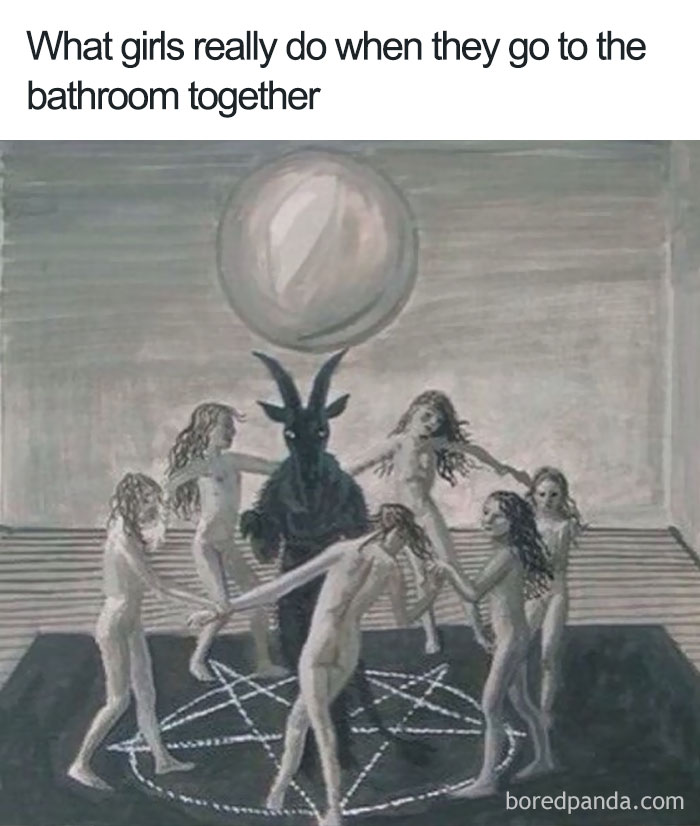 Ever notice how women tend to go to the bathroom in groups? Ever wonder what goes on in there, if it's more than just the release of bodily fluids? Maybe this is what happens.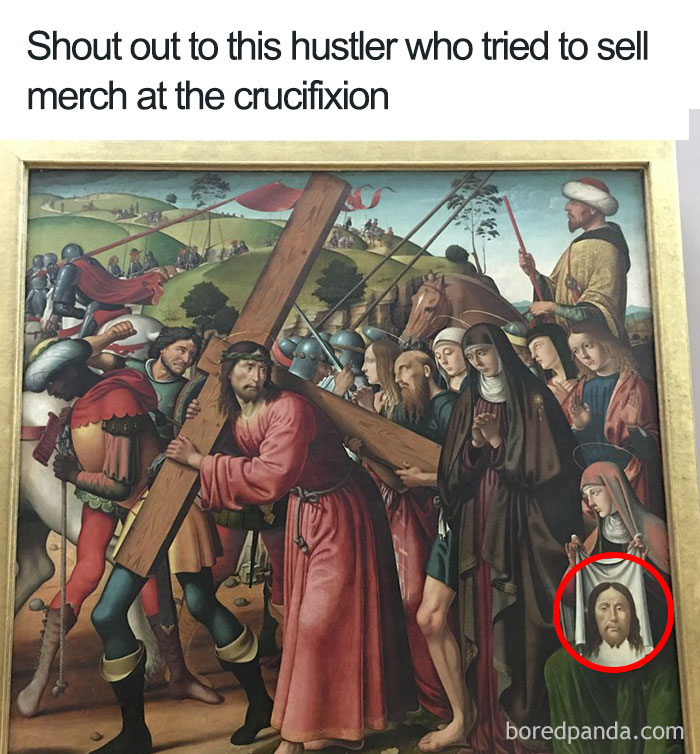 Jesus getting crucified is one of the more infamous tales in human history. In this painting of that day, one person strangely has a rag with Jesus' face on it. Is she selling it? Rooting him on? And why is Jesus looking at her? Maybe he thinks she'll help him out in the end.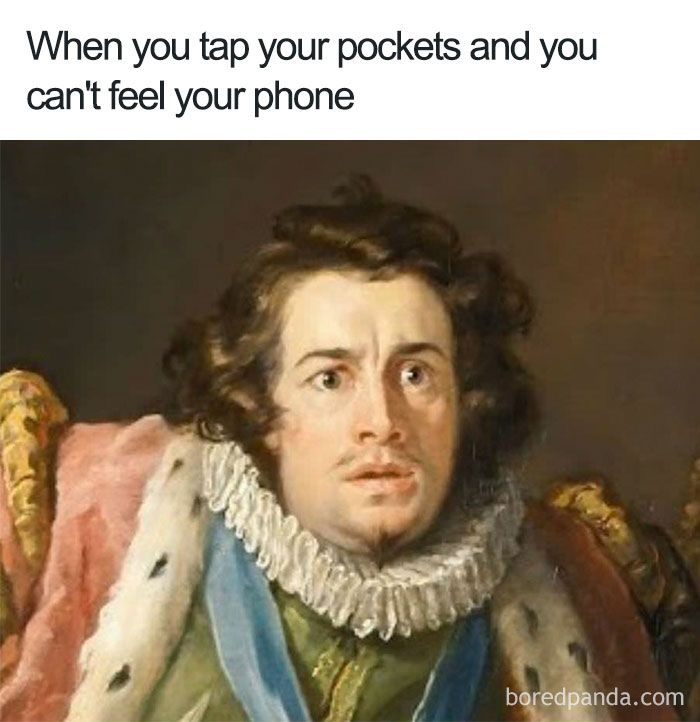 Another one that we can all relate to. In this day and age, we basically have to be on our phones for a good part of the day. But, we've all had that moment where we reach for it, and it's not there. The sheer panic that shoots through our bodies is all over this guy's face.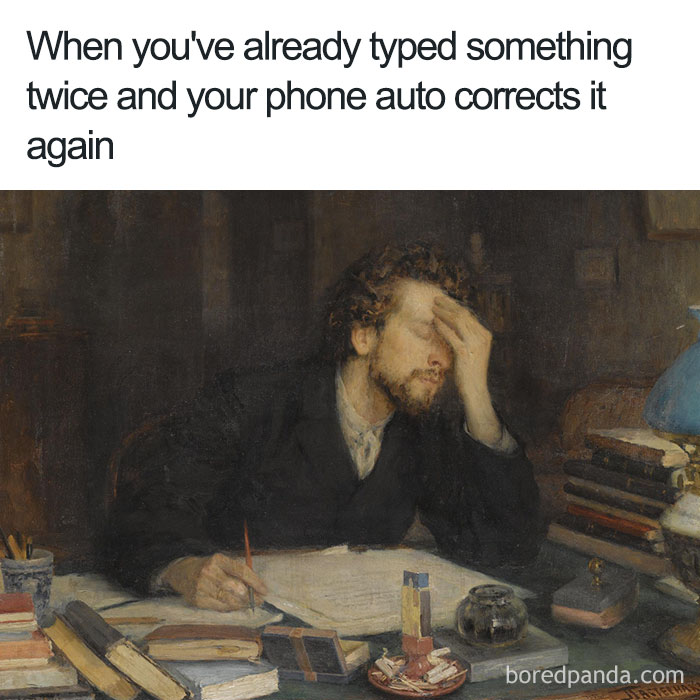 Speaking of cellphones, another thing many of us have had to deal with is auto correct. The idea behind your phone fixing your spelling errors is a good one, but all too often, it auto corrects things that it has no business messing with. This guy is all of us.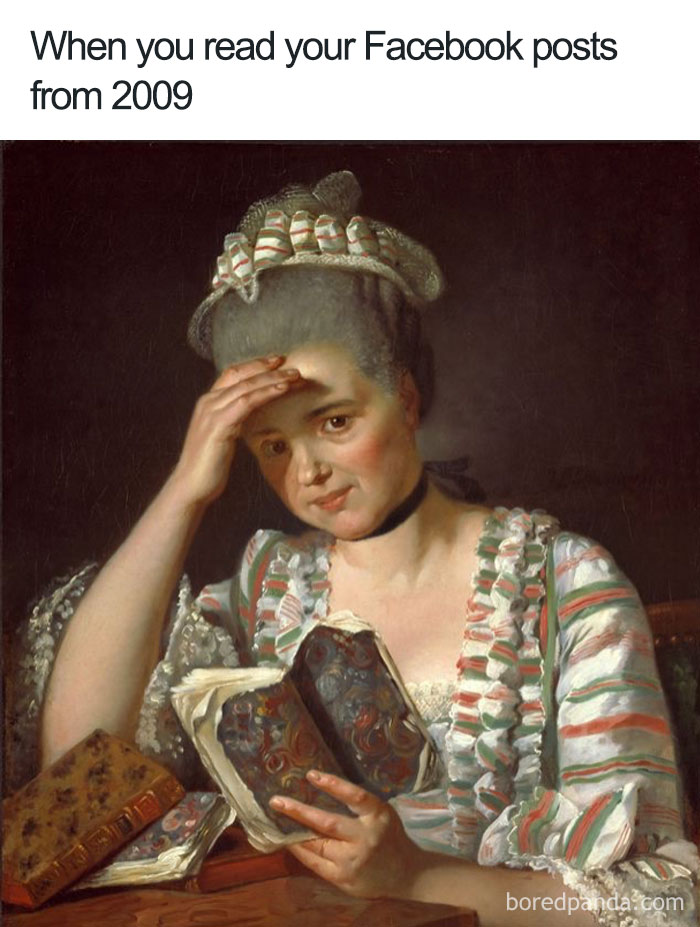 With age comes wisdom. You may not realize it as it happens to you. But, it's really evident when you look back at the things you used to say. This woman is embarrassed in this picture, which is how a lot of us feel when we read things our younger selves said or wrote.
Dogs are supposed to stay away from chocolate, but they can almost never seem to do that. When they get into something they shouldn't, we humans have to go to great lengths to help them. This guy has a similar problem with this lion. I refused to believe they're fighting. He's helping the big kitty.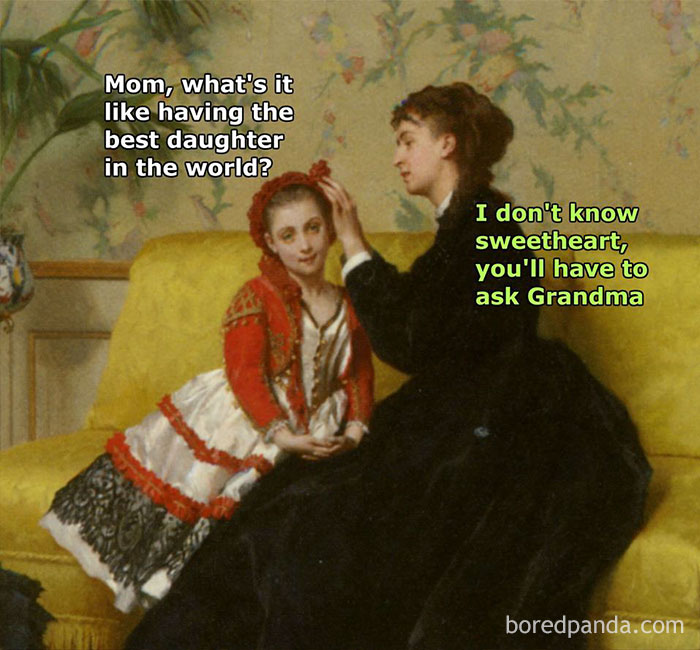 Mom burns are some of the most wicked burns a person can experience. The daughter in this meme asks a simple question, and instead of a sweet answer, gets burned as her mom brags about herself.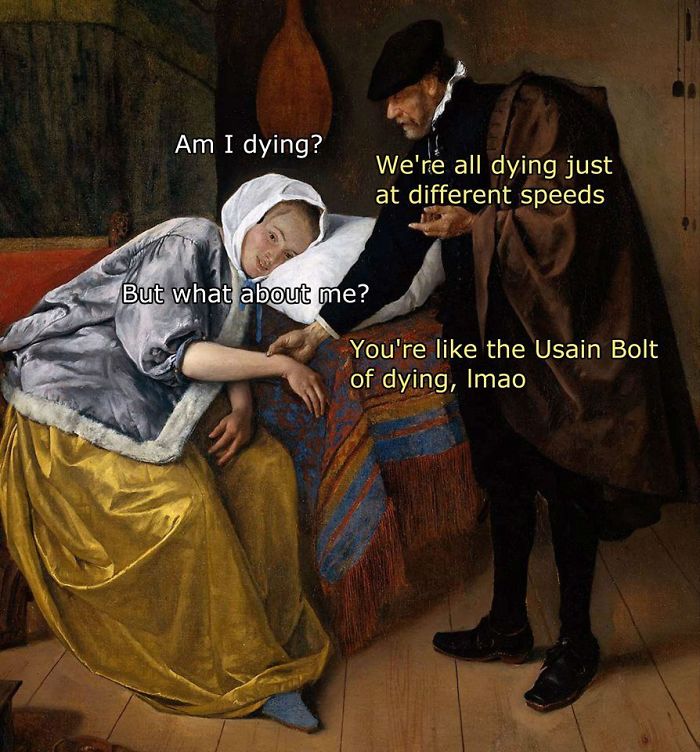 This is one of those mean spirited, but still hilarious memes. This sick woman is seemingly being catered to by a doctor of sorts. His response isn't the one she was hoping for and has the added Usain Bolt joke. For those living under a rock, Bolt is the fastest man alive. That should give context to explain the joke.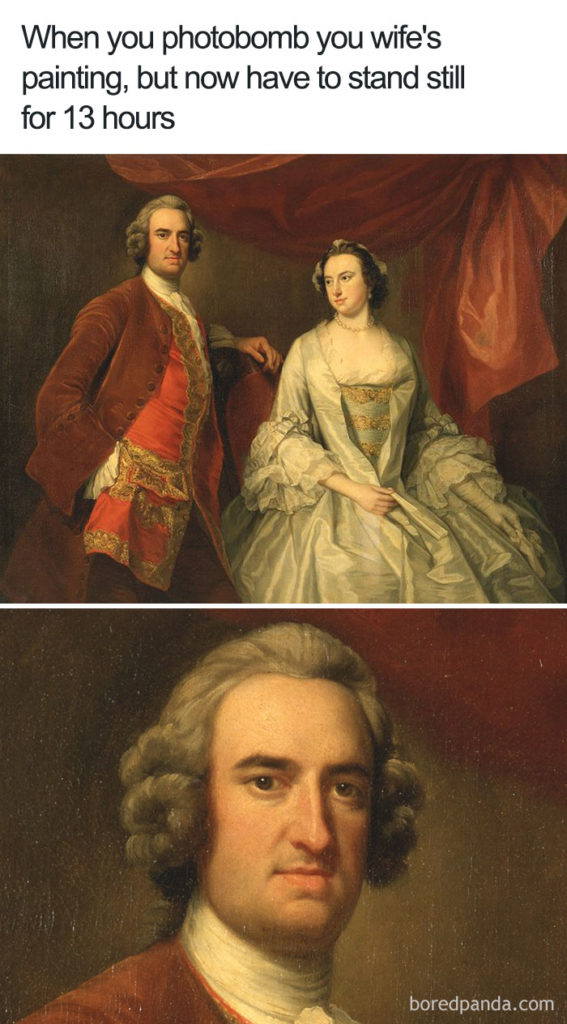 The art of the photobomb. It's something that many of us have either done, or been on the receiving end of. That didn't exist before the days of cameras. If there was a photobomb in this situation, the man would have to stand there for hours, which might explain the woman's unamused nature.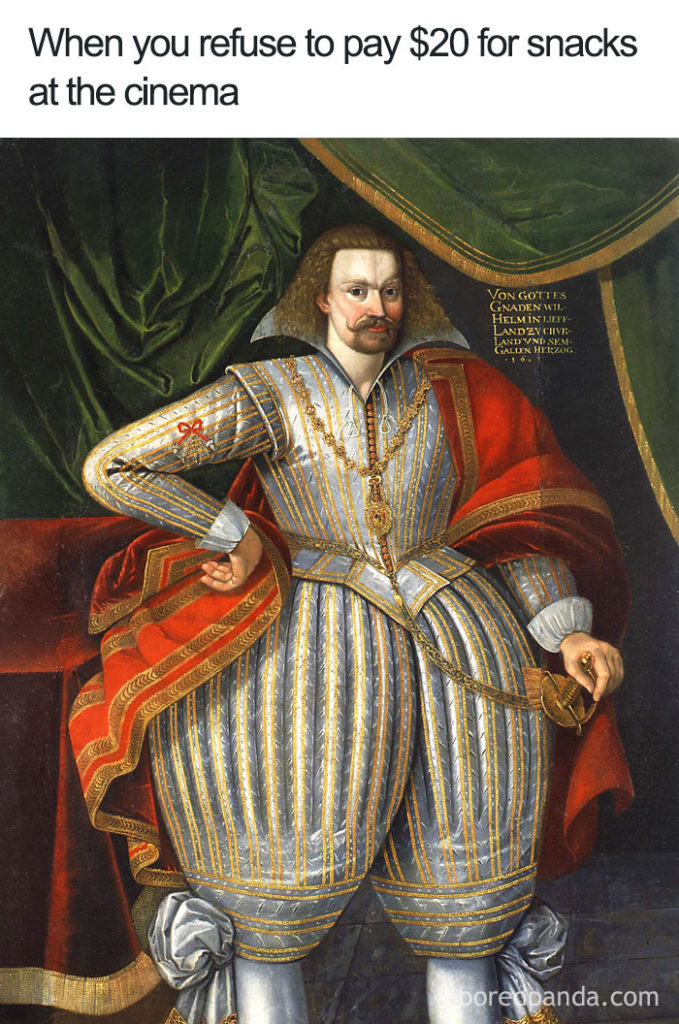 As a frequent visitor of movie theaters, I get where this peeved off dude is coming from. The sass in the hand on his hip and his displeased look perfectly display the feeling of overpriced snacks at the cinema.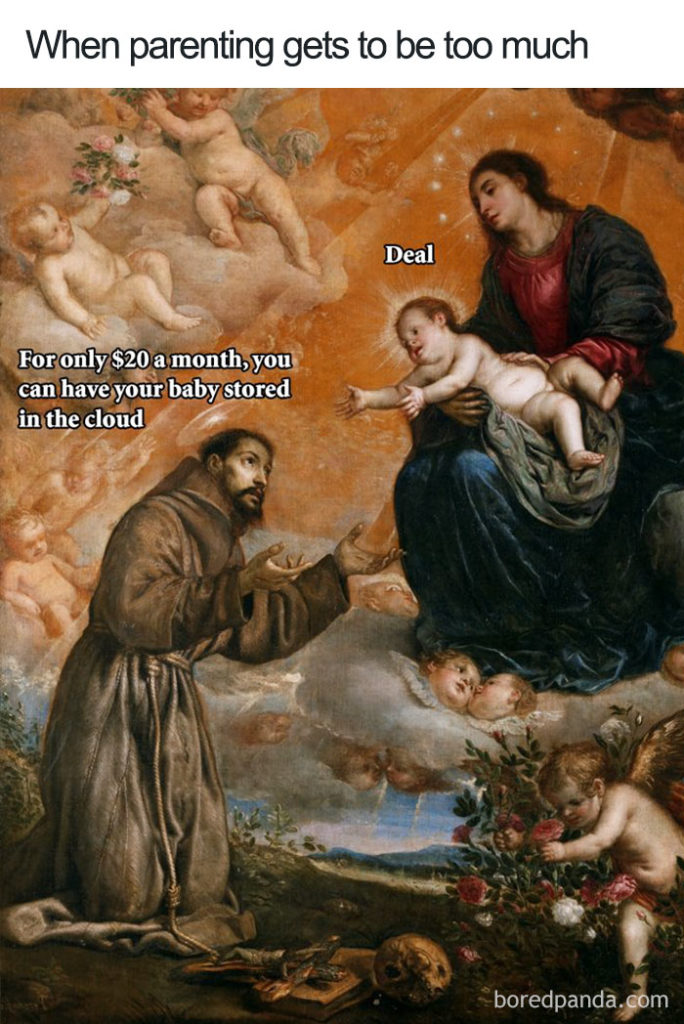 Kids, especially babies, can be a lot to handle. Sometimes, a small part of you wishes they could just go away for a while so you can get some sleep. This guy seems to be offering to hold your baby in the cloud for the right price. I'm surprised Apple hasn't already offered this.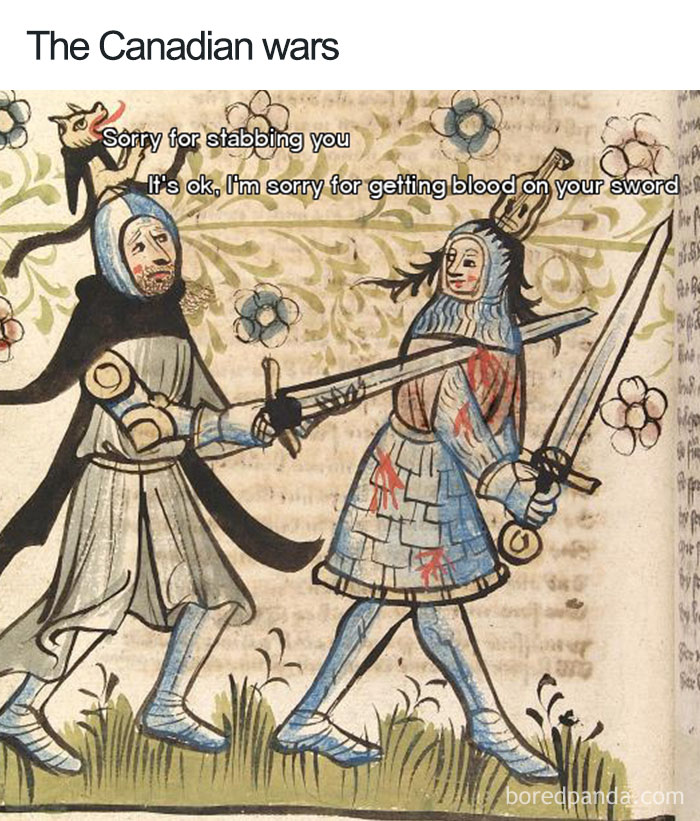 A running joke throughout the world is how apologetic and nice the people of Canada are. This artist drew something rather violent, yet the faces on the people involved suggests things weren't so bad. The man doing the stabbing looks sorry, while the stabbed person seems more annoyed than hurt.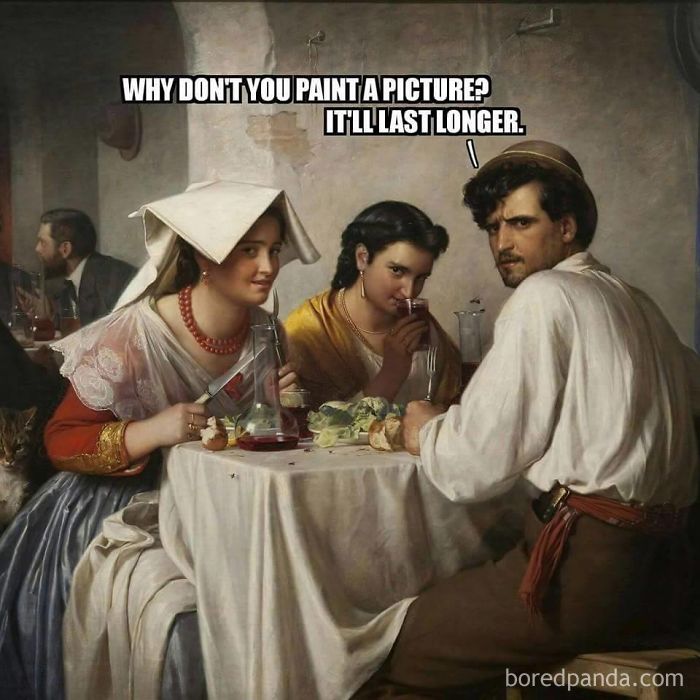 It's always a bit off-putting when the subjects of a painting are staring right back at you. This image has that happening three times. One woman looks to be a bit surprised by it all, the other is a cross between smelling something bad and wanting to be seductive, and the man looks pissed to be part of it all.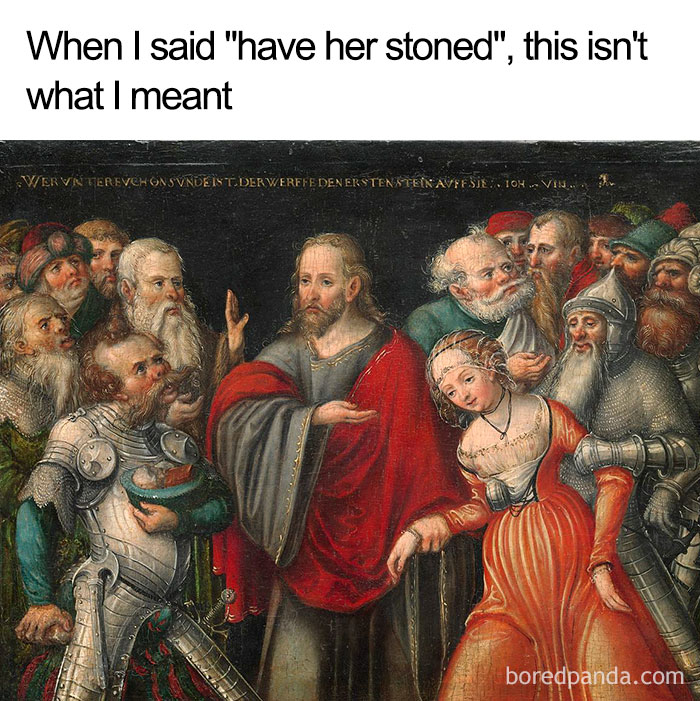 This is one of those pictures where I'd really like to know what the original was meant to be. The meme is almost too perfect. It really does seem like the man is peeved that instead of stoning this woman, they got her stoned. She looks ready to eat everything in the village.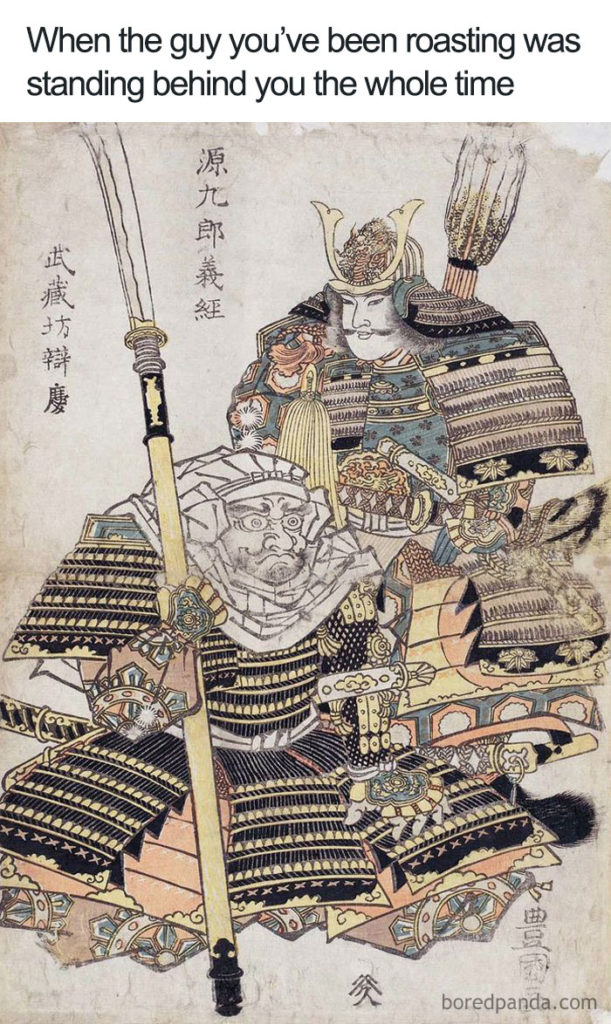 We all like to crack our fair share of jokes. Sometimes, you roast someone with your buddies. It just happens. But, on occasion, the person being roasted is much larger than you. And maybe that person is standing behind you as you flame them. The guy sitting seems to have just realized that he could be in a world of hurt for his words.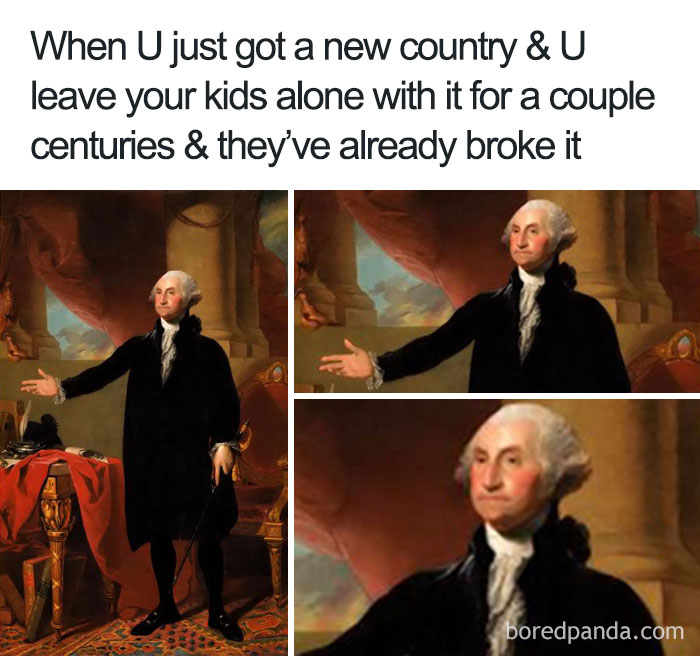 Another one of my favorites. This painting of the father of the United States, George Washington, is a meme goldmine. His expression is priceless and made even better by how he holds out his arm, as if to ask, "What the hell is this?" That's basically how he'd react to seeing what has happened since his time in office.