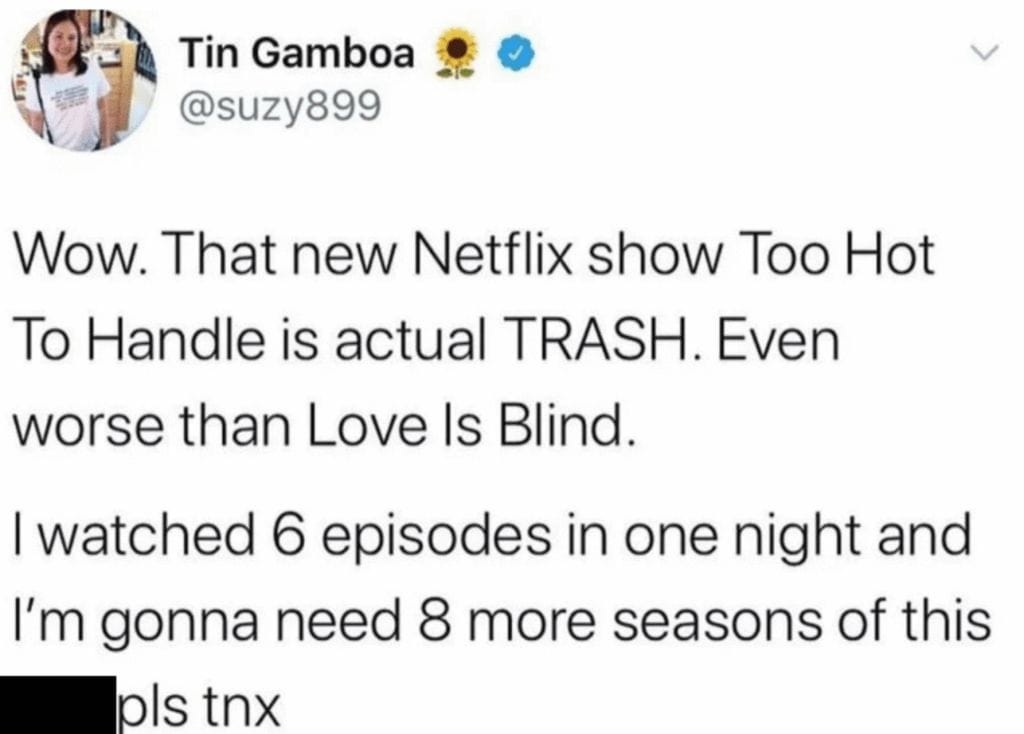 Netflix's new reality show can kind of be summed up like this. Everyone knows it's bad television but we can't seem to stop watching it no matter how hard we try.
The relationship between Harry and Francesca was the focal point of the series. However, considering the way Harry treated her to start, it was hard to root for them.
Chloe admitted she was dumb and became a fan favorite for how fun she was. Haley was dumb and unlikable. Even funny lines like this didn't work in her favor.
We all pretty much felt this way as soon as the show began. Our brain cells disappeared and we all just went into our simplest mode to enjoy this show for what it is.
One of the best things you'll find on this list is when a meme crosses over multiple Netflix shows. This one uses "You" to perfection for a memorable moment.
With everyone in quarantine, we are making great use of Netflix. A show like "Too Hot to Handle" was pretty much perfect for this time, similar to "The Circle."
If you needed more proof that Haley was the least liked cast member, look no further than this meme that depicts her as the year 2020 in human form. It's accurate.
With the cast of the show being known for short hookups, it does make a bit of sense that they would consider four weeks to be a "long-term relationship."
Like Netflix's "The Circle," the narrator was one of the best things about the show. She would throw out lines like this and this would be our exact reaction.
Haley was widely considered to be the worst person on the show. She stuck to Francesca like glue but was terrible to everyone else while barely giving them a chance.
Speaking of the Francesca/Haley friendship, this tweet does a great job of showing it off. Playing off of the popular "I'm gonna tell my kids" meme, it works wonders.
Kelz was famous on the show for being the person who seemed to care most about the money. He came close to losing some when he hung out with Francesca.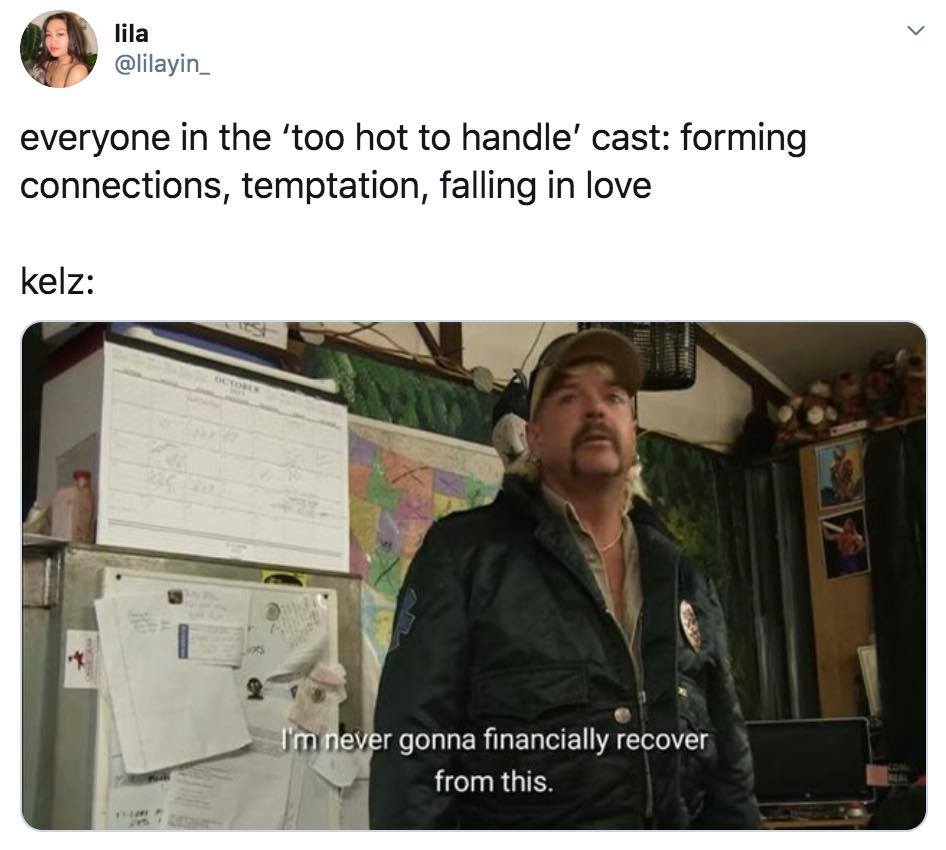 Another tweet that perfectly showcases the thought process that Kelz had compared to everyone else. Using fellow Netflix hit "Tiger King" was the icing on the cake.
Once again, a meme that lets you know how Kelz felt when people started costing him money. This one uses Terry Crews' hilarious "Everybody Hates Chris" character.
These attractive people would've left with about $10,000 each if they didn't have sex. Everyone who isn't hooking up right now wishes they had that deal.
Almost everyone who watched this show can relate to this post. It's exactly what reality television is supposed to be. Bad at every turn, yet insanely addicting.
As soon as Bryce joined the house a few episodes in and dropped this line, this was kind of all of our faces. He was clearly trying way too hard to sound cool.
Leave it to a Kristen Bell gif to capture how we're all feeling about this show. While alone at home and not hooking up, we have mixed feelings about the cast.
This one is pretty hilarious. Francesca literally had this reaction to learning that she can't have sex while on the show. Literal tears rolled down her cheeks.
The final meme is another take on a popular one that also manages to once again let you inside the mind of Kelz. He was always doing the math on the money being lost.