Live television is such an interesting and unexpected world. Anything can happen! That was the case recently for a WLOS ABC 13 reporter.
His name is Justin Hinton, and he's pretty accomplished when it comes to his job. That includes an impressive and notable award victory under his belt.
That just so happens to be an Emmy Award, arguably the most prestigious thing that someone on television can earn. It's far from Hinton's only award victory, too.
Alas, something recently happened while Justin Hinton was reporting that will change everyone's thought process when they hear his name. It'll be the first thing that comes to mind.
That day came on February 20, 2020. Hinton was preparing to give one of his usual reports, but things took a surprising turn that nobody expected. It led to a memorable broadcast.
Before we get to the specifics of what happened to Justin Hinton, we should note some other hilarious live moments on the news. Like this shot of someone kitesurfing during a devastating hurricane.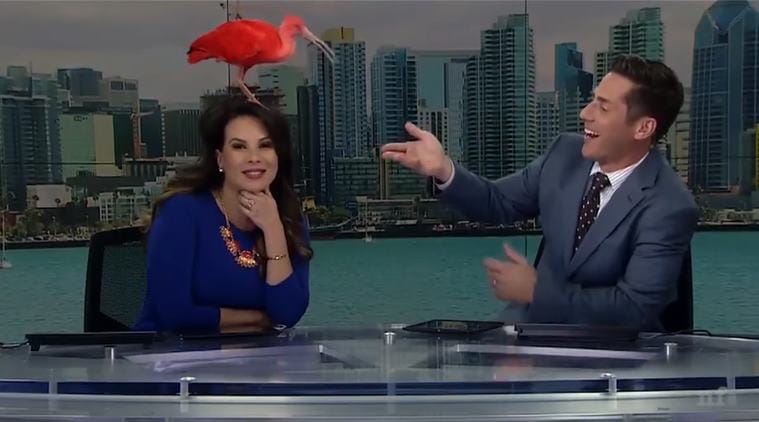 There was also this classic moment where we saw an exotic bird fly onto the set and land on one anchor's head. Thankfully, she took it in stride and got a great photo out of it.
Who can forget this one? The news anchor spoke of a wanted suspect, while the sketch of that person happened to look almost exactly like him. It's almost too funny to be true.
As we've already seen, there are certain things you can't control. That includes what animals will do when on air, like this monkey who went right in to cop a feel.
The news has given us some truly iconic interview moments. Antoine Dodson became an internet sensation for the famous "Hide yo kids, hide yo wife," interview.
There's always this fella, who is most known for appearing on multiple news interviews and saying inappropriate things. We won't say what he says here but you probably know it by looking at him.
Back to Justin Hinton and you get this. His moment had nothing to do with other people. Instead, it was a case of accidentally leaving a Facebook filter on.
It was Facebook's "Mystery Mask" filter, which works similarly to the famous ones on Snapchat. It kept cycling through different "masks." Each of them was funnier than the last.
As you have seen so far, the first few saw him as some kind of Transformer and as what might have been a badger. Then, he became this spooky storyteller.
Even when he became something extra hilarious, such as this Gandalf-like wizard, he was unaware. That meant that Justin continued to deliver the news like he normally would.
We don't know about you, but there's a good chance that our favorite is this pair of googly eyes. It's kind of a classic when it comes to these filter gimmicks.
Impressively, the filter even remained on when Justin turned his head. Anyone who has used these in the past can attest to how they sometimes shut off when that happens.
The filters continued to get better and better, with this one making it seem like he was lifting weights. Everyone wondered how his cameraman didn't notice.
Following this shades filter, Hinton wrapped up his report and went off-camera. It was then that he asked his colleague if he had a weird face. He absolutely did.
Those subtitles laid out exactly what he said when he noticed. The moment has since gone viral, with hundreds of thousands of people liking and discussing it online.